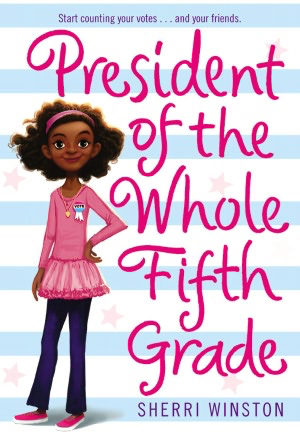 The New York Public Library, The Brooklyn Library and the Queens Library, along with the NYC school library network, has selected President of the Whole Fifth Grade–a book totally written by yours truly–for their recommended summer reading list.
Oh, New York. Thank you so much. It's such an honor. Now if you're reading this in the NYC area and decide to check the website,
https://www.nypl.org/events/summerreading,
they may have messed up my name a little bit–called me Sherri Williams. Not to worry. It's me, Sherri Winston, author of
President of the Whole Fifth Grade
and the soon-to-be released
President of the Whole Sixth Grade
.
Trust me. I wrote both of them with barely any help. OK, maybe a little help from a few real-life fifth graders. And people who like cupcakes because the main character, Brianna Justice, is all about baking cupcakes. And there are recipes, too. I made them up. I DID. And anyway, the New York library people totally got the name of the book right, so who cares. On behalf of me and Sherri Williams, please accept my humble thanks. I shall now take a brief delay to perform my happy dance.
I am now done with my dance. Please, go along with your day. And if you are in NYC or know someone there with an awesome kid in need of awesome reading material, tell them Sherri Williams, uh, Winston, says hello!