At this time of year, everyone is posting lists of faves. Us book lovers get filled with holiday glee at the thought of books fresh from the book garden, or wherever great books are born. So here are a few goodies on my list of recommended must-reads:
Must Read: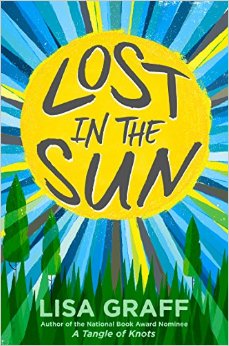 Lost In The Sun (LISA GRAFF): Masterfully written and heart-achingly real. Trent starts middle school desperate to hit the restart button on his life. He craves a new beginning after a fifth-grade tragedy left one classmate dead and Trent feeling the weight of his friend's loss. After all, he surmises, it was all Trent's fault. How would you cope with causing the death of another kid? Trent's struggle feels real and honest. The kind of book that makes you clutch your chest and shake your head while you're reading it. A darned good book!
Princess In Black and the Perfect Princess Party (SHANNON HALE): I mean, really? Who wouldn't want to attend a perfect party in honor of a monster hunting princess? Welcome to the castle, y'all. Princess In Black is in the house. Is it wrong that I buy these books knowing I have no age-appropriate reader with which to share? The PIB (Princess In Black) delivers charm, hilarity and plenty of action. You may scoff, but her tales are a pure delight!
President of the Whole Sixth Grade (SHERRI WINSTON): Brianna Justice thought she had sixth grade all figured out. Until she was actually in sixth grade. Then everything she thought she was sure of–her friends, her future, her Self!–began to shift. How Brianna chooses to find herself and figure out her next move is an inspiration to anyone who has ever faced a challenge and then challenged themselves to figure it out. In a story filled with Ancient Roman facts, yummy cupcake recipes and a class trip from Detroit to Washington, D.C., Brianna Justice learns a few things about life. And maybe teaches a few things, too.